Your 5-day guide to race-day ready skin
A winning routine for event-ready skin
Your 5-day guide to race-day ready skin
It's that time of year again, the weather is warming up and ladies and gents around the country are getting ready for the race that stops the nation.
Whether you're into the races or not, this 5-day skin care guide is perfect for achieving bright and beautiful skin for any occasion. Make sure you maintain your skin care staples and plan ahead for our 5-day countdown to show-stopping skin.
Skin care staples
For any big event, there are some skin care staples you need to maintain to ensure you're good to glow come the big day.
#1 Make sure you drink enough water. Truly happy skin starts from within, and staying hydrated by drinking water throughout the day helps flush your system of toxins for clear skin. Coming straight out of winter, dry skin might need a little help, check out our super skin care tonic recipe for a little-added hydration boost.
#2 Maintain your skin care routine. It's always (but especially on the run up to an event) important to maintain a kind and caring daily skin care routine.
#3 Proper makeup removal. Overnight our skin needs time to breathe and regenerate and sleeping with makeup on prevents this process. Double cleansing with Santé is the sure fire way to ensure your makeup is well and truly removed for optimal skin recovery.
#4 Wear sunscreen. The sun's rays are damaging to the skin come rain or shine, so it's essential you apply a natural sunscreen (even when it's not sunny) to exposed areas of the skin. Opt for a natural, organic option.
#5 Get your beauty sleep. Beauty sleep is a real thing, too many late nights will see your skin suffer as your body isn't given the adequate amount of time to repair and regenerate.
#6 Clean your makeup brushes. A kind of obvious one, but dirty makeup brushes are going to do your skin no favours, plus, you won't achieve seamless makeup application either.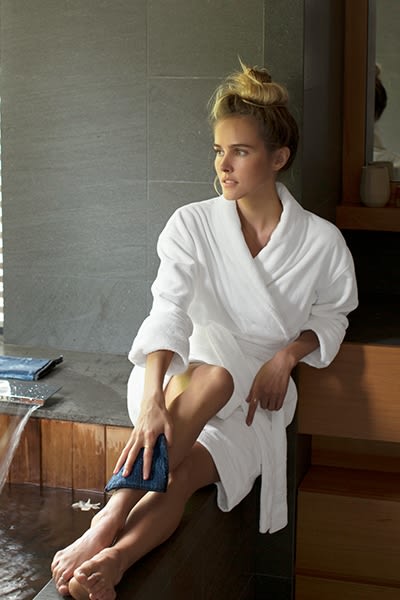 DAY #1
Your event is 5 days away, it's time to start prepping for impeccable skin – and the key is to begin by boosting your circulation and flushing out toxins.
Start your day with a cup of hot water and lemon. Water intake throughout the day is important, and after a good night's sleep our bodies are in need of hydration, this will get you off to a good start. By adding lemon you'll be boosting mineral absorption, improving your digestion and detoxifying your body.
Before your morning shower spend 5 minutes dry body brushing. Dry brushing in the morning will help kick-start your lymphatic system, which is your body's network of tissues and organs that help rid the body of waste. Santé's Body Glove is perfect for dry body brushing, starting with your bottom right foot (furthest away from your heart), sweep Santé's (dry) Body Glove in an upward motion. Sweep up your arms towards your heart and then brush your chest and stomach in an anti-clockwise motion.
If you're planning on applying a faux glow, now's the time to ensure dry areas such as the heels, knees and elbows are super smooth. Using the exfoliating side of the Santé Body Glove with a little water, gentle buff dry areas in a soft circular motion. Follow exfoliation with a nourishing and natural moisturiser such as Santé's Coconut Cream; apply a pea-sized amount to those dry areas.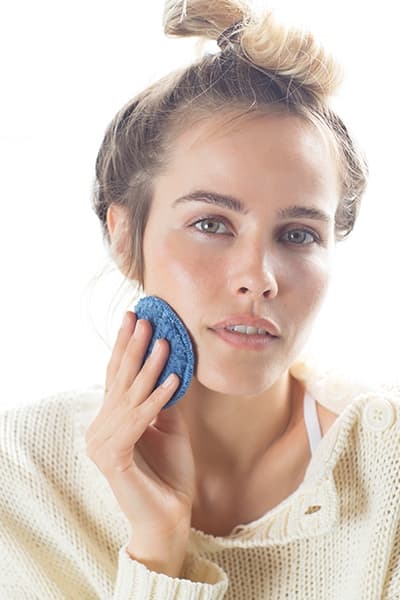 DAY #2
Repeat your morning ritual of hot water with lemon followed by 5 minutes of body brushing for the whole 5 days.
If possible, today would be the perfect time to give your skin a treat and go makeup free for the day. After your morning shower wet a Santé Makeup Remover and gently buff the fine fibres over the skin in a soft circular motion, this will ensure your skin is optimally cleansed and free of the build-up of old makeup or dead skin cells. Being entirely clear, your skin will be perfectly primed for the maximum absorption of a nourishing moisturiser.
Stay hydrated throughout the day by adding a little cucumber to your water and with a matcha green tea in the evening. Matcha green tea is packed with vitamin A, C, K and B-complex, so essentially, it's full of free-radical fighting antioxidants which will help stop the free radicals damaging healthy cells and collagen. The anti-inflammatory agent also helps clear blemishes1.
In preparation for a natural looking fake tan, repeat the process from day 1 and exfoliate your heels, knees and elbows.
Before bed indulge in a little face yoga, or faceasana. Face yoga exercises help increase blood flow to the surface of the skin, delivering more oxygen to your skin cells, for a healthy, glowing complexion and better ability to absorb nourishing night time skin treatments.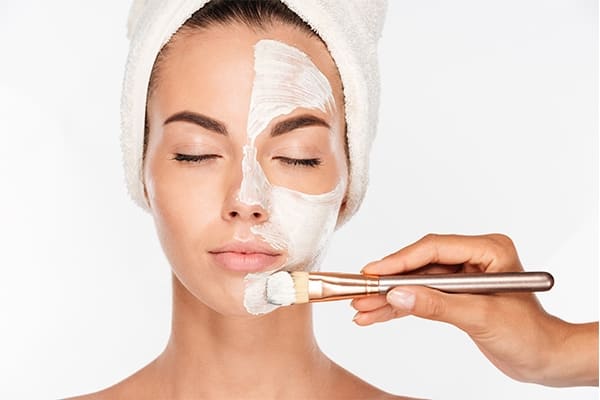 DAY #3
Today is the day to prep for the seamless application of your fake tan (for all things to consider when it comes to fake tanning, see 'how to nail a natural looking fake tan').
Again start your day on the right foot with your hot water and lemon and a dry body brushing session.
Before bed is where you want to conduct the majority of your skin prep on day 3. For a long-lasting, natural fake tan, hair removal is essential and should occur at least 24 hours before you apply your tan to prevent applying the formula to irritated skin.
After de-fuzzing, you want to exfoliate from top to toe. After cleansing in the shower, use the exfoliating side of Santé's Body Glove in long sweeping motions (pay special attention to the heels, ankles and elbows).
After showering apply a hydrating, brightening face mask. We love Sand & Sky's Brilliant Skin purifying pink clay mask. Follow the mask instructions and gently use a Santé Exfoliator to lift and exfoliate the face, neck and décolletage. Switch to a Santé Face Glove (cleansing side) to gently remove the remainder of the mask.
Fake tanning agents can be drying, so now's the time to add as much moisture to your skin as possible. Allow boiling water to cool to a safe temperature, pour into a bowl and add Santé's Bamboo Face Towel. Massage a pea-sized amount of Santé's Coconut Cream into your face and neck, then apply the hot face towel to your face to open your pores for maximum moisture absorption.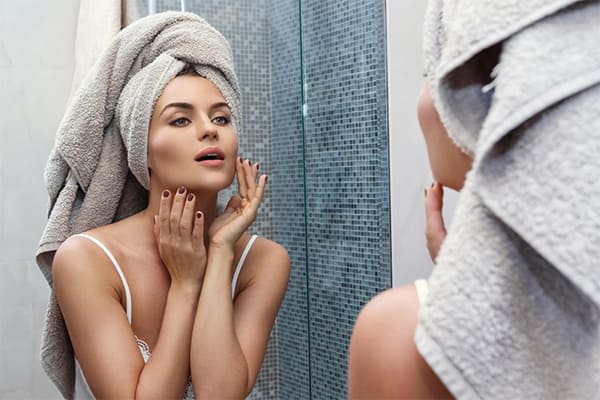 DAY #4
Today is the day you apply your faux glow, and your skin should be feeling soft and supple. Some don't advise moisturising before applying a fake tan, but for a natural-looking tan that lasts the distance, you want to avoid dry skin at all costs. Choose a non-oil-based moisturiser for your body, and wait at least 30 minutes before moving on to your tan application. Use your facial moisturiser as usual, this will help dilute the tan for a more subtle glow.
To prevent unsightly dark patches, use a small amount of oil-based moisturiser, like coconut oil, on your elbows, knees, heels, around your hairline, on your eyebrows and around your nailbed, this will prevent the tan from building up and staining these areas.
An application mitt is the best way to apply your tan and avoid staining the palms of your hands. Start on the tops of your feet and then move on to your legs, torso, arms, chest and face. Apply evenly and blend in long, sweeping motions. Use sparingly on your ankles, heels, knees and elbows, if using a mitt, don't forget to apply tan to the backs if your hands.
Avoid dressing for at least 15 minutes to allow your tan to dry, and then wear loose fitting clothing to avoid removing your tan while it develops. Check the developing time of your chosen formula, or wait at least 8 hours before gently removing with the cleansing side of your Santé Body Glove. Santé allows you to cleanse with just water, the fibres work to gently remove the tanning product without any other cleansing ingredients that could interfere with the colour.
Check for any dark or uneven patches and use the exfoliating side of the Santé Body Glove to gently buff away the build-up for an even colour.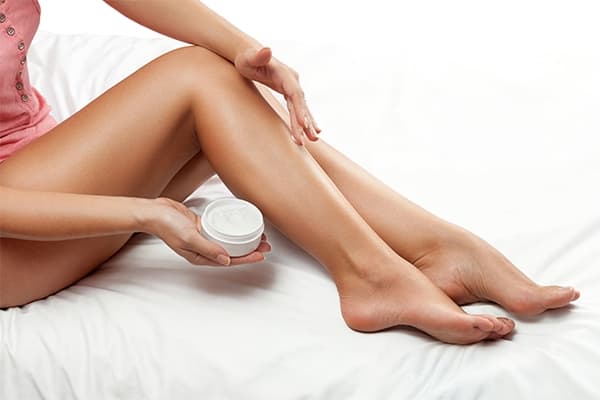 DAY #5
Now's the time to use the most moisture-intense moisturiser you own, this will help make your tan last. Oil-based products naturally lock-in moisture by forming a barrier on the surface of the skin, and something as simple as coconut oil contains all the natural and nourishing properties your skin loves. Use while your skin is still a little damp and leave to dry.
REFERENCES
1. https://zengreentea.com.au/matcha-helps-skin/