How to nail a natural looking fake tan…
Fake tan has come a long way since the days of unsightly streaks and stains, now it's actually possible to create a naturally sun-kissed look in your own home while protecting your skin from the sun's UVA and UVB rays.
There's something about having a gorgeous glow that makes you look and feel better, but applying the perfect faux glow is notoriously tricky. Follow our guide to the perfect fake tan and see our top tips to maximise your glow!
What do you need for a natural looking fake tan?
TANNING TOOLS
Fake tan of your choice
Body brush
Santé Body Glove
Coconut oil
Application Mitt
How to choose your tan
There are some great (and some not so great) fake tan options available, do some research and make sure you check out the reviews before you make your decision.
Think shade…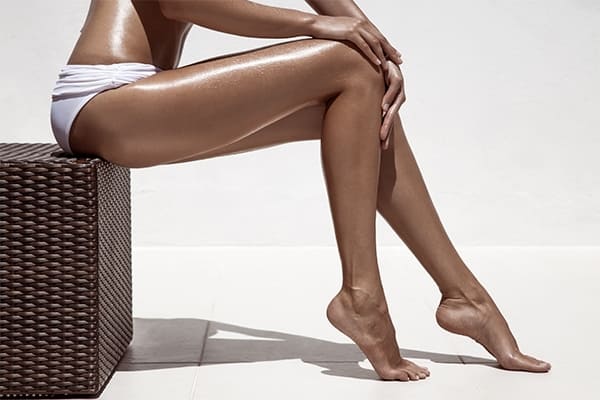 Make sure you choose the shade that's right for your skin colour. It might be tempting to choose a dark shade for a more noticeable look, but if you're naturally fair, gradually building a light-to-medium shade will give you a more natural finish. If you're naturally quite dark when you've been in the sun, you can probably pull off a darker shade (plus, a light shade may not be noticeable), so opt for a medium or dark colour.
Think developing time…
If you've left things until the last minute and need to be tanned tonight, choose a fake tan that has an immediate pigment and continues to develop over time. A gradual tanner is by far the best option if you're looking for a natural finish. If you have time, let your tan develop overnight, by keeping the formula on for longer, your tan should last longer too.
Think ingredients…
A natural-looking glow from a bottle is far kinder to our skin than the real deal, but that doesn't mean the ingredients aren't important. Try organic options and look for formulas that are kind to sensitive skin and are fragrance-free!
Fake tan application tips you need to know for a flawless, long-lasting glow
Putting a little effort into the prep totally pays when it comes to prolonging the life of your tan, here's how to prep to perfection.
Hair removal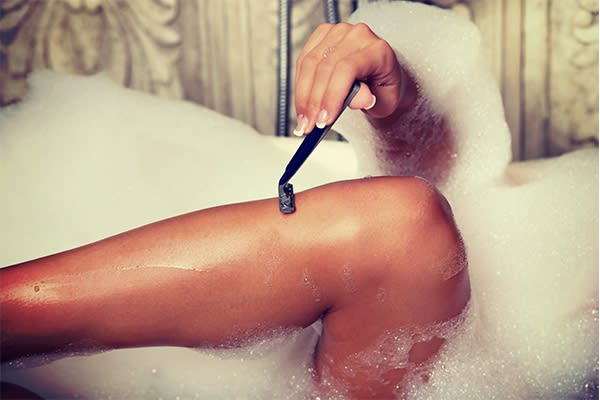 Hair removal needs to be considered first and foremost, as all hair removal should occur at least 24 hours before you plan to tan, this will avoid irritating sensitive skin and will stop the tanning formula from getting into your pores.
Body brush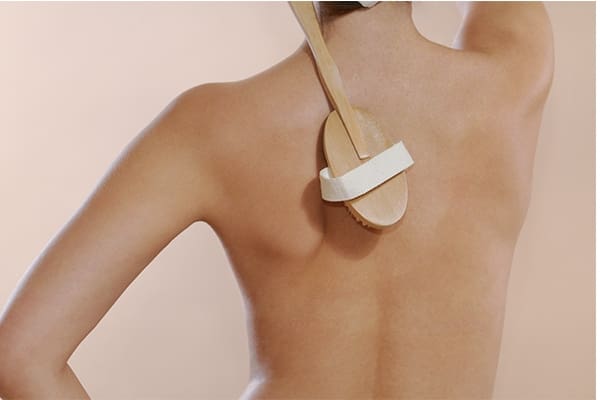 Body brushing is always a good idea and is the perfect pre-shower prep-step to boost your circulation, but also act as a pre-exfoliator, to loosen any stubborn patches of dry skin before you shower.
Exfoliate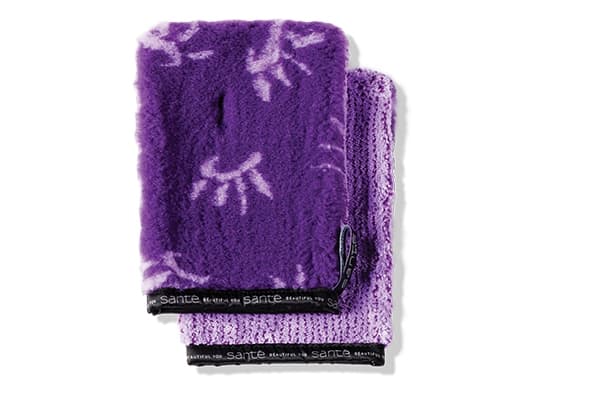 The essential step for tanning excellence! For ease of application you want to slough away any dry, dead or flaky skin cells to create a smooth and uniform surface, this will help prevent tan from building up or looking uneven. The Santé Body Glove is perfect for both cleansing and exfoliating. You want to pay extra special attention to known rough patches of skin like the elbows, knees and heels, and simply buff in a soft circular motion.
Pre-tan moisturise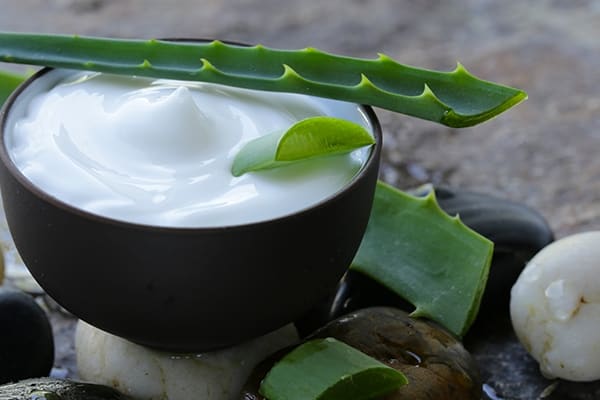 Some don't advise moisturising before applying a fake tan, but for a natural-looking tan that lasts the distance, you want to avoid dry skin at all costs. Choose a non-oil-based moisturiser for your body, and wait at least 30 minutes before moving on to your tan application.
Use your facial moisturiser as usual, this will give your complexion a more subtle glow.
To prevent unsightly dark patches, use a small amount of oil-based moisturiser, like coconut oil, on your elbows, knees, heels, around your hairline, on your eyebrows and around your nailbed, this will prevent the tan from building up and staining these areas.
Stay hydrated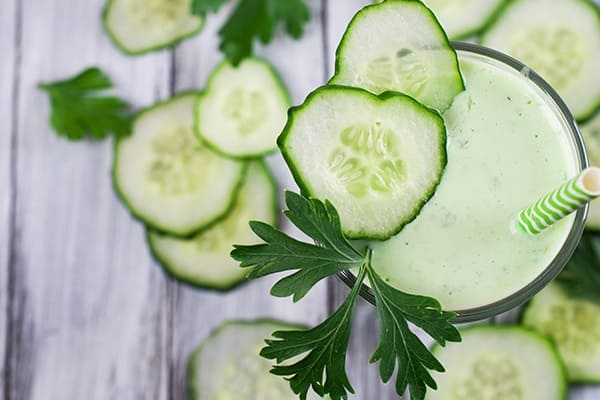 Ingredients contained within fake-tan formulas typically dry out the skin, so you want to do everything possible to keep your skin hydrated while your tan is developing. Drink your recommended 8 glasses of water a day and eat plenty of water-full fruits and vegetables.
Application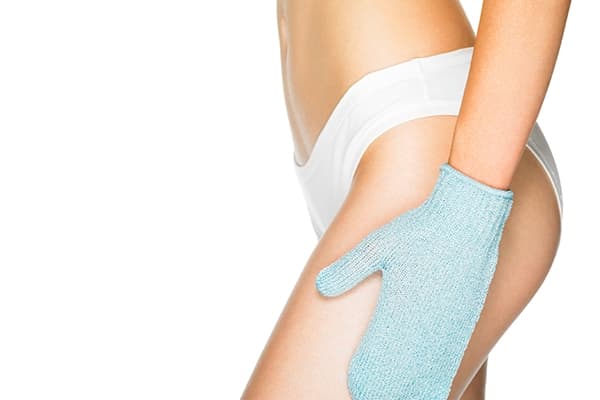 An application mitt is the best way to apply your tan and avoid staining the palms of your hands. Start from the tops of your feet and then move on to your legs, torso, arms, chest and face. Apply evenly and blend in long, sweeping motions. Use sparingly on your ankles, heels, knees and elbows, if using a mitt, don't forget to apply tan to the backs if your hands.
Avoid dressing for at least 15 minutes to allow your tan to dry, and then wear loose fitting clothing to avoid removing your tan while it develops.
Shower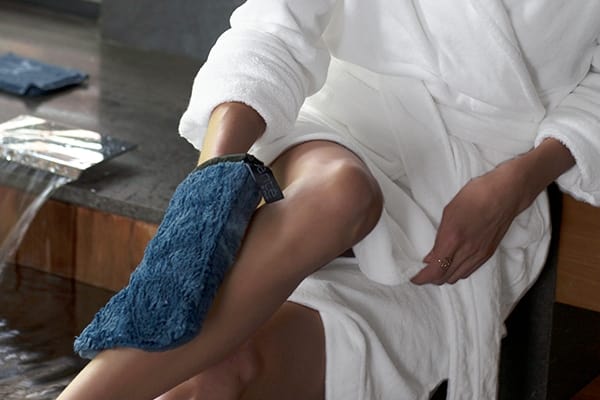 Check the developing time of your chosen formula, or wait at least 8 hours before gently removing with the cleansing side of your Santé Body Glove. Santé allows you to cleanse with just water, the fibres work to gently remove the tanning product without any other cleansing ingredients that could interfere with the colour.
Check for any dark or uneven patches and use the exfoliating side of the Santé Body Glove to gently buff away the build-up for an even colour.
Post-tan moisture
Now's the time to use the most moisture-intense moisturiser you own, this will help make your tan last. Oil-based products naturally lock-in moisture by forming a barrier on the surface of the skin, and something as simple as coconut oil contains all the natural and nourishing properties your skin loves. Use while your skin is still a little damp and leave to dry.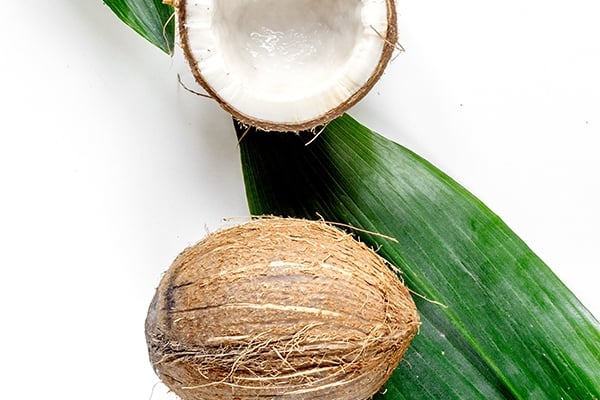 Wear sunscreen

Remember, fake tan does not contain sun protection, so when you head outdoors you still need to apply your SPF!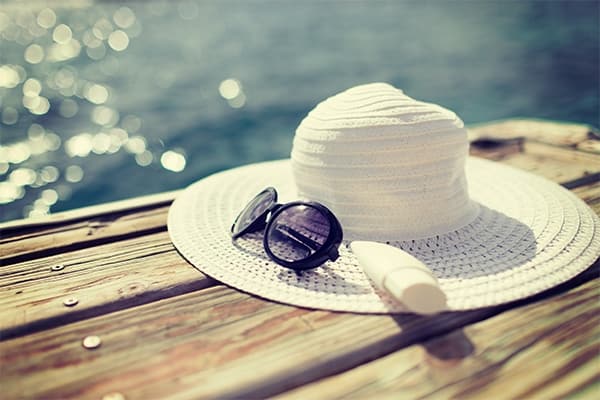 Repeat the process

To gradually build your colour, shower as usual using the Santé Body Glove to gently cleanse and then repeat the above process from the 'pre-tan moisturiser' step.
How to maximise your tan time
1. Use your Santé Body Glove (cleansing side) from top to toe every day – this will ensure your skin is effectively cleansed (without chemicals) and you're removing your tan slowly and evenly.
2. If you spot any unsightly patches, switch to the exfoliating side of your Glove and gently buff away the colour.
3. Moisturise, moisturise, moisturise – every day!
What's the best way to remove your fake tan?
Your faux glow won't last forever, so when it comes time to give your skin a break from the glow follow these top tips for full tan removal.
1. Use your body brush before you shower.
2. Add a little lemon juice to the exfoliating side of your Santé Body Glove and exfoliate in the shower. The acidic nature of the lemon helps break down the product along with any dead skin cells.
3. Approximately 40 minutes before you shower rub coconut oil into your skin and let it sit before exfoliating with your Santé Body Glove. The coconut oil will soften the skin making the exfoliating process more effective.